What to capture?
SEARCA PHOTO CONTEST 2016 will award entries that best capture the joy and passion that Southeast Asian farmers and fishers, processors, traders, and consumers share as they harvest, process, sell, and partake of the fruits of the land and sea. We are looking for photographs that depict the vibrant countryside along with the Southeast Asians who plant, fish, and harvest the food and products that we enjoy. Send us photos of: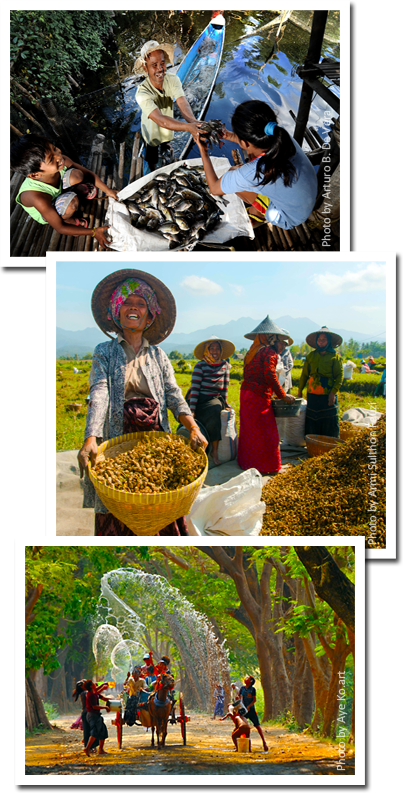 happy smallholders who take joy in planting and in caring for their farms;
fishers bringing in the day's catch or taking care of their fish ponds and fish cages;
market sellers and buyers enjoying the trade in products and services;
people engaged in adding value and processing the fruits of the farms and bounty of the sea;
people enjoying their food on the table, the last stop in a long journey from farm to plate;
scientists and extension agents work with farmers and fishers to apply good agricultural practices, use certified seed, adhere to quality standards, and access information and communication technology.
Guidelines
The photo contest is open to all Southeast Asian nationals except SEARCA employees and immediate family members.
The photo contest centers on the theme "Celebrating Southeast Asian Agriculture and Fisheries."
All entries must be submitted online via the Photo Contest 2016 online submission portal during the contest period (1 October to 30 December 2016). There are no limits to the number of entries submitted by a contestant.
To minimize cases of plagiarism, during the submission process, contestants will be asked to certify to certify ownership of the photo and that the photograph has not won any previous photo contest.
Photos should not have been digitally altered and/or enhanced in any way other than simple cropping.
Entries must be digital, in JPEG format, and at 300 dpi. There is no maximum file size or resolution as long as it can be uploaded via the online submission portal.
Each entry should include the following details in English: name of photographer, country, brief statement/description of the photo, where the photo was taken (include town/municipality, province/state, and country), when it was taken (complete date), and the camera used.
Criteria
Relevance to the theme
40%
Technical quality


clarity, tone and color, composition

30%
Impact
30%

---

TOTAL
100%
Deadline
All entries must be submitted online at
photocontest.searca.org
by 30 December 2016 (GMT +08:00).
EXTENDED until 13 January 2017 (GMT +08:00).
Prizes
First Place:
USD800
Second Place:
USD500
Third Place:
USD300
People's Choice:


via Facebook Voting

USD200