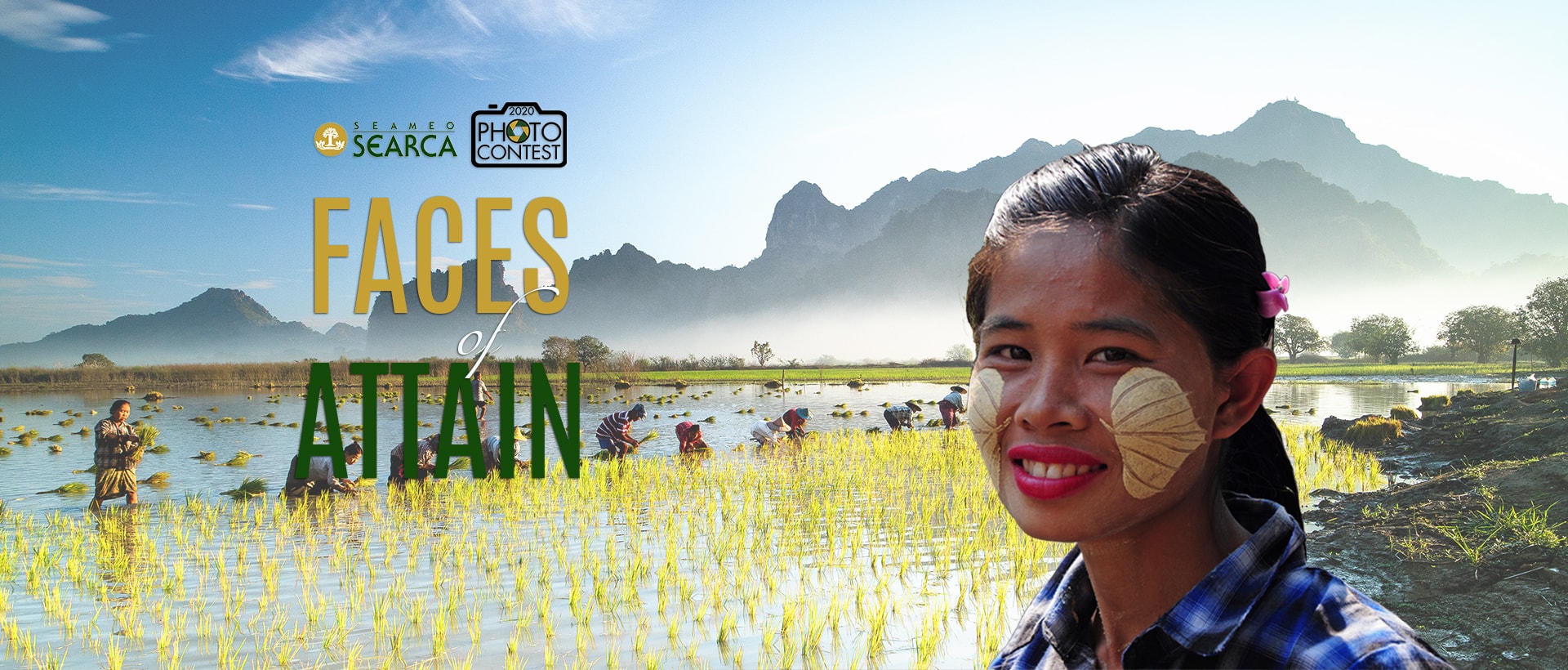 Food security has been thrust into the spotlight with the ongoing pandemic looming over the future of the entire world. This has caused a spike in interest and curiosity about agriculture in general and how everyone can contribute towards its overall success. Now is the best time to highlight the people working in agriculture and rural development across all SEAMEO member countries and celebrate their resiliency and innovativeness amidst these challenging times.
SEARCA's 14th Annual Photo Contest (2020) aims to capture and spotlight people and milestones that align with the Center's 11th Five-Year Plan (FYP 2020–2025) as embodied in its tagline: Accelerating Transformation Through Agricultural Innovation (ATTAIN).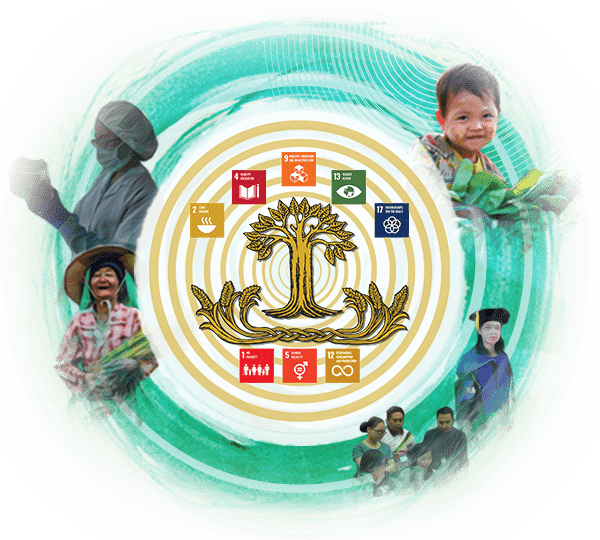 The 14th SEARCA Photo Contest (2020) with the theme "Faces of ATTAIN" seeks images from across Southeast Asia that showcase people actively involved, contributing to, working towards, or benefitting from the following ATTAIN sub-themes:
Any of SEARCA's 7 ATTAIN Priority Areas, specifically:
Agri-Business Models for Increased Productivity and Income
Sustainable Farming Systems and Natural Resource Management (NRM)
Food and Nutrition Security
Transformational Leadership in Agriculture and Rural Development (ARD)
Gender and Youth Engagement in ARD
Enhanced ARD towards Climate Resilience
EcoHealth/One Health Applications to ARD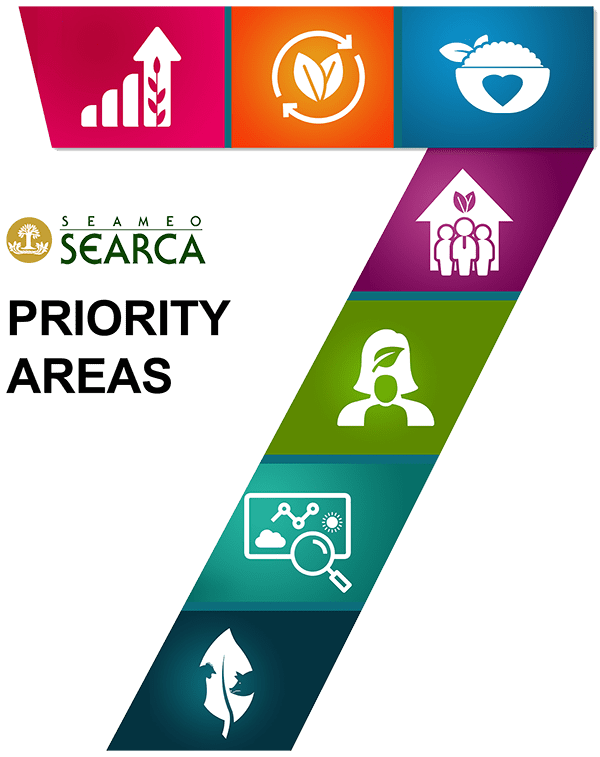 Any of the 20+ Thematic Focus Areas from the ATTAIN Strategic Framework:
Gender and youth engagement in agriculture and rural development (ARD)
IT-based education and state-of-the-art pedagogy
Transformational leadership
Training for Development (T4D)

Enabling policies for gender and youth engagement in ARD
Integrated long-term macro level policy
Operationalizing policy for AGRI 4.0
Customized information for decision-makers
Circular economy

Gender and youth in ARD business transformation
Open innovation platforms
Go-to market, scaling strategies
Incubating and prototyping emerging technologies
Tech transfer for AGRI 4.0
Sustainable and ecosystems design
Customer-centric, impact-centric approach
Impact evaluation, monitoring and evaluation systems

Gender and youth investment support in ARD
Open innovations platforms for investment
National long-term investment policy in line with AGRI 4.0
Change in mindset
Transformational leadership
Innovative financial services

Gender and youth engagement in agriculture, NRM, and cross-cutting topics
Knowledge/information system
Sustainable production and consumption
Customer-centric approach
Producer empowerment
The 14th SEARCA Photo Contest (2020) is open to all Southeast Asian nationals except SEARCA employees and their immediate family members.
The photo contest centers on the theme Faces of ATTAIN.
All entries must be submitted via the 14th SEARCA Photo Contest (2020) online submission portal during the contest period (1 September to 30 November 2020). Each contestant can submit unlimited number of entries that meet contest specifications.
To minimize cases of plagiarism, contestants will be asked during the submission process to certify that:

they own the photographs submitted and that they grant SEARCA full permission to use it in knowledge packaging, sharing, and advocacy related to SEARCA mandate. SEARCA shall ensure that the photographer will be properly credited for photos used, especially in mass-produced print publications;
the photographs are original, have not won any previous photo contests, have not been published elsewhere (whether print or electronic), and have not been submitted as entries to any other photo contests during the 14th SEARCA Photo Contest (2020) period. The same or similar photos submitted to past SEARCA photo contests may not be submitted again;
that the photos have not been digitally altered and/or enhanced in any way other than simple cropping; and
in case this photograph contains an identifiable child/minor subject, the child's parent/guardian has given consent/permission (written or verbal) to use the photograph for the purposes deemed appropriate by SEARCA.

Entries must be digital, colored, in JPEG format, and at least 3,000 pixels wide for a horizontal image, or 3,000 pixels tall for a vertical image at 300 dpi.
Each entry should have the following details in English:

name of photographer and country of origin;
photo caption/description;
place where the photo was taken (include town/municipality, province/state, and country);
complete date taken;
equipment/type of camera used; and
other information that SEARCA may deem necessary to collect for reference purposes.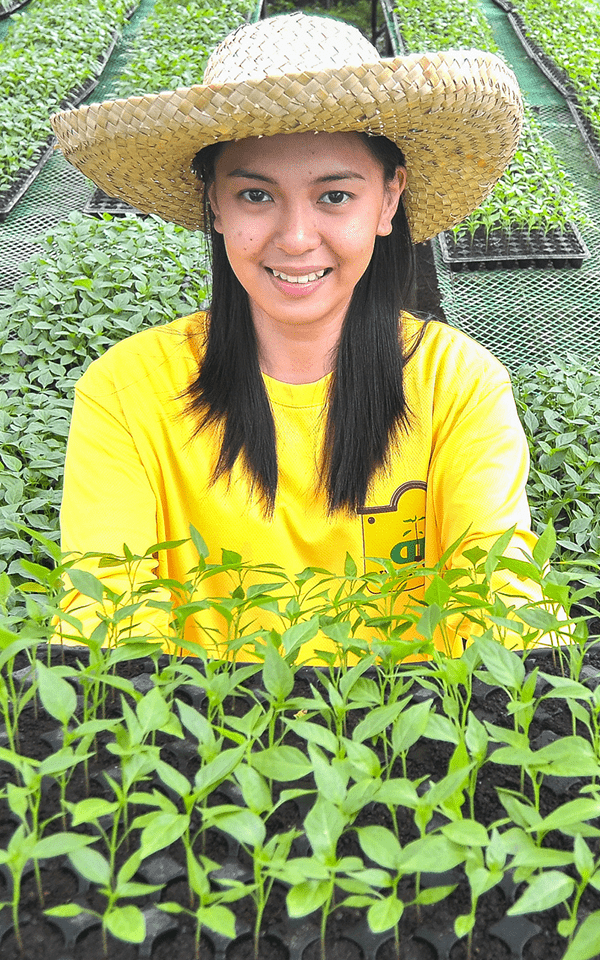 Criteria
Relevance to the theme
40%
Technical quality


(clarity, use of tones and color, photographic composition)

30%
Impact (regional flavor)
30%

---

TOTAL
100%
Deadline
All entries must be submitted online at http://photocontest.searca.org on or before 30 November 2020, 11:59 p.m. (GMT +08:00).
Prizes
USD 1,000

1st Prize

USD 800

2nd Prize

USD 500

3rd Prize
Special Awards
USD 500

SEARCA Director's Choice

USD 500

Philippine Department of Education Secretary's Choice

USD 200

People's Choice
(via Facebook voting)
Photo credits: Khant Zaw, Anthony Into, and Min Min Soe